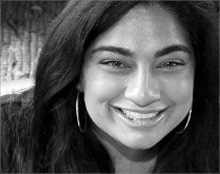 Priya Haji
Entrepreneur, social innovator, mother
This is a special tribute to Priya Karim Haji, mother, visionary, and one of our generation's greatest social entrepreneurs.
We will never forget you Priya.
Sammy Shreibati, Priya's co-founder at SaveUp
Holly Boyer, Priya's co-founder at World of Good Development Organization
Priya's vision for her life was to make a positive impact on the world. From venture-backed startups to giving advice to a friend, she had a bigger vision for everything and everyone. Striving to make every moment of her life count, Priya started a free health clinic with her father while in high school, and then started Free At Last, a non-profit drug treatment and prevention center, after college. Soon after business school she started World Of Good, a online marketplace to help low-income women around the world. Priya was one of those people who was going to do something amazing in every part of her life. After meeting Priya for the first time four years ago, I knew I wanted to work with her and be a part of her next vision. 
Before we started working together, she—a single woman—was very honest about starting a family on her own. I admired her for embarking on such a life-changing event, all while starting a company with me. She asked me if we could have our future office one block from her house in San Francisco; even though I lived in Los Altos, 40 miles away, I immediately said of course. 
In the first few months of working together, our nascent idea finally had a name and we brainstormed how the business would work. We set out to create SaveUp, the first sustainable rewards system that helps motivate people to do the right thing, to save money and pay down debt. With a seed round in place, we were up and running, building a product and building the team. Zen was born a month after we launched in December 2011; Priya was on top of the world.
A couple of years passed, building the product, expanding the business, growing the team and then one day Priya asked me to come into the conference room to chat. I could tell something was on her mind. She seemed a bit nervous, which was unusual. She started off by thanking me for all of the sacrifices I had made over the years. She was very proud of what we had done at SaveUp. At this point I thought she was going to tell me she was leaving the company. But then she asked me what I thought about her having another child and expanding her family. I was relieved but shocked that she would ask me for my thoughts about her personal life. I quickly said, "Priya, that is wonderful, I'm fully supportive but you didn't have to ask me." We hugged and talked some more. With all the public acknowledgment and appreciation Priya had given to me prior, it wasn't until that day that I realized how much I meant to her.
Priya had the energy to give 100% at work and then another 100% at home with her kids. At work, she was always, in her words, "hustling" to expand the SaveUp brand and work on new partnerships. Priya  knew her shortcomings and made sure she had people around her to guide her. She was never afraid to ask for "guidance," a term she would often use in emails to advisors and peers. 
In addition to having the audacity to change the world, Priya challenged the status quo by being a female entrepreneur in Silicon Valley and a single mother. I know her kids will one day meet all the people that Priya touched. They will learn about who their mother was as we share with them all the things that Priya taught us. She will continue to inspire me to be bold, humble, and always selfless.
Priya Haji was the co-founder of SaveUp and the founder of World of Good, an online retail marketplace and wholesaler of sustainable goods, acquired by eBay in 2010. Prior to that she co-founded and led Free at Last, which became a national model for substance abuse treatment and HIV/AIDS intervention for African Americans and Latinos while serving 3,000 people per year in East Palo Alto and raised more than $20M in special investments.  
On July 14, 2014, Priya died unexpectedly at the age of 44 in her home in San Francisco.
This is our tribute to this bright and shining young visionary, her life cut far too short far too early.
Google "Priya Haji." You'll find her.