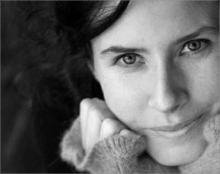 Brie Mathers
Author, speaker, strong girl whisperer
Santa Cruz, CA and Muskoka, Ontario, Canada
"Modeling our dreams over our bodies, we can stride down real-life runways and break through the walls of the complex labyrinth that girl culture has become."
Something happened on that beach when I was seventeen growing up long ago perverted into getting fat braving that sand was the most courageous thing I had done to date and when the light opened between my heart and the sky pouring out in both directions until there was nothing left of me but an ache to share the love that is possible I saw girls gushing forth by the hundreds into auditoriums the gifts of feminism that made all beings equal tumbling forth from that open heart that space between thoughts where the seeker and the sought are not separate this prayer that young women everywhere awaken to who they truly are until walking by that store window and checking out how hot you look has gone down in history alongside the porn-informed culture of middle school social relationships wherein self-objectification has become a rite of passage for girls whose bodies have scarcely grazed womanhood young minds taken hostage by this messaging before their brains have fully formed against the haze of an Internet world host to a slut-shaming smorgasbord against girls who internalize the hotbed of messaging before they have the maturity to moderate their understanding of it while YouTube Am I Pretty videos scream forth as hundreds of 11- and 13-year-old girls ask the world to validate their worth
Three million hits and ninety-two thousand comments later the world has responded.
This is my call.
Yes you are pretty, but not because you have realized the plastic glamour of manufactured celebrities, no you are pretty because you have a pretty heart born of the power you can access in that body at once fluid and fierce, rooted in strength and of the wind, power that burns down self-doubt, challenges everything you have been taught to believe and leaves you supple as a willow in spring because when you surrender to the beauty that you are the think less buy more ethic of multi-conglommerates who rely on your feeling ugly at last close their doors so even though it's hard to live within this crazy, this 24/7 come on baby like my photo, just beneath it, the stardust that you are shines on because you are a beacon, you are the life that lives as all beings and that intuitive nudging to open your bright eyes, your girl-driven schoolwide grrl days, your walls of art work and inspirational quotes have inspired me to believe that charting a new course is possible that mentoring is not a lost art and that modeling our dreams over our bodies our strengths not our weaknesses everything we want to see more of modeling our dreams over our bodies, we can stride down real-life runways and break through the walls of the complex labyrinth that girl culture has become because you have restored my faith in the power of sisterhood making me believe young women can reach beyond their pierced belly buttons to make a difference for others across the world, making me understand what we choose to see, do, believe, and be in every moment has more impact on our lives than the width of our thighs and the bra cup we wear because being able to run is the most important thing on Halloween so I watch as a little girl ditches her princess gown in favour of a lion's garb—enter monumental roar—because princesses can't run and in my heart a full-blown celebrative bash ignites as I imagine a world in which little girls everywhere duly ditch their princess duds for the garb of mighty lions and I posit:
What a wonderful world it could be.
At university a women's spirit circle sprang up followed by a decade-long deep dive into Zen until an Advaita Vedanta teacher named Gangaji arose inside me and this which is changeless, soft, silent, and still is the secret garden, the sacred well, the source of life and light to which I return again and again, inextricably linked to women's power to bring forth life and eternal beneath the madness deep within the density of psychological time we all arrived on shooting stars cast across this darkness we seek to reconcile and in the end we are all simply shimmering stardust destined to return.
~ Brie Mathers
*Brie gave Birgitte the highest honor one author can give to another: she wrote her profile story in the same literary style as The Visionary.
Author, speaker, and founder of Love the Skin You're In, Brie Mathers has spoken to 50,000 people across Canada, New Zealand (National Youth Week Tour 2012) and the U.S. inspiring stellar body esteem, sovereignty, and sisterhood. Her work has been featured in Coastal Living, 65 Degree, Origin, and Focus magazines, The San Jose Mercury, The Santa Cruz Sentinel, and on LA Talk Radio, CTV News, Vancouver Island News, Bay Area Dr. Future Show and CKVR News. Corporate sponsors have included TD Canada Trust, Royal Bank of Canada and Manulife Financial. Her partners include TEDx Bay Area, The University of Rochester Medical School of Nursing, The Western New York Comprehensive Care Center, One Billion Rising, Franchise for Humanity at Stanford, Dr. Riane Eisler's Center for Partnership Studies, Wanderlust Yoga Festival and YWCA.