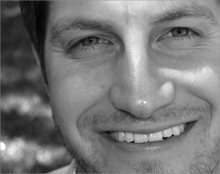 "There is no amount of fame or fortune that can illuminate something that is already lit."
I stepped off the BART train and scaled the stairs into the bustling midday rush of Market Street. Just as the New York City commuters in The Visionary "rushed on unaware of the blessing that rained gold upon their heads," I found myself surrounded by a sea of worker bees crying out to be seen.
It wasn't long ago that I was one of these individuals pursuing money, power, and fame. Fourteen-hour days were a badge of pride; I'd given up so much in pursuit of wanting to be seen as a somebody. It wasn't until the most depressing day of my life when I sold my company—a day that should have been one of my happiest—that I realized this approach wasn't working.
It quickly became clear to me that if your life's pursuits are based on proving your worth so you can be seen, the worst thing that can happen to you is that you actually succeed. Why? Because when you were on that journey upward, there was still an upper bound to be reached. You could be more. You could be bigger. You could be better.
But what happens when you finally get to the top and realize that you've proven everything you possibly can—and you're still not enough and there is still no light? Not only does your unhappiness continue to linger, but now, there's no more hope.
That is the cruelest truth of all.
As The Visionary so beautifully calls out, it's become commonplace in our society that somewhere along the way after birth we lose sight of our deepest, innate light and push ourselves into a relentless, survival-driven pursuit to find it. We believe that careers, monetary gain, and recognition will somehow fill our inner world with light. We will destroy the Earth and each other in a desperate attempt to see and be seen, to be loved, and to be worthy. And in the process miss the simple beauty that flows all around us. 
The truth at once fortunate and unfortunate is that this light lives uniquely within each one of us, from the moment we enter this world. It never wavers, never falters, never dims—except because of our own illusion. There is no amount of fame or fortune that can illuminate something that is already lit. What we seek most can be summed up in a simple lesson The Visionary offers us: "Take the time to learn how to see."
Visionaries do not necessarily have advanced skill or uncommon might. They may not be the CEO in the corner office or the stars on the big screen. They're our neighbors, children, and friends who are able and willing to see beyond all the false myths and deception, build rapport with their own light, and have the will and the courage to shine brightly in a dimly lit world. 
This is where my journey begins: as a coach, a seeker of truths, an artisan of the human experience, guiding visionaries of all kinds along their path and helping them experience the ultimate truth that... "we are all made of light." 
~ Jeff Riddle  
Jeff Riddle is a former athlete, musician, entrepreneur, and sales professional who has translated years of learning about top performance and human experience into Riddle Group, a high-performance coaching firm. Riddle Group specializes in working with athletes, entrepreneurs, executives, entertainers, and sales professionals to enhance their performance by elevating their mental game.
Learn more about Jeff and his work at www.jeffriddle.com.